Airpods continue to grow in popularity, and on 30 October 2019, the Airpods Pro was released globally. These wireless headphones are a boon to the people who like listening to music on the go.
But like its predecessors, the Airpods 1 & 2, it is susceptible to breakage, scratches, or dents. As such, they require optimal protection against elements and getting lost. Why not protect it with a trendy leather case?
Below are six fashionable and durable leather cases that you can choose from.
Key features
Built-in keychain.
An LED display.
A Charging port.
Lightweight and portable.
>>SHOP NOW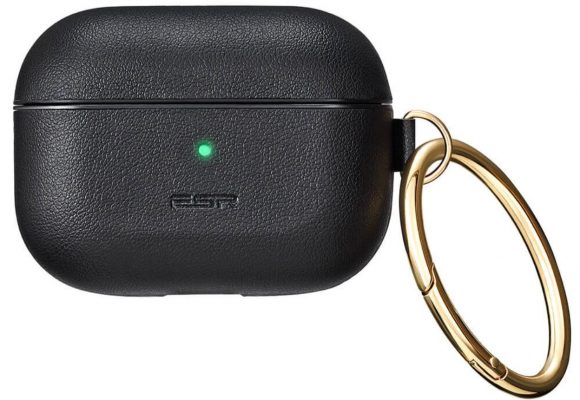 This case is compatible with the 2019 Airpods charging case. The lid closes wholly and securely, ensuring your Airpods Pro remain intact even when walking. Thanks to the faux-leather case, it opens completely, providing quick and easy access to the Airpods.
The interior is made of a robust PC that protects the Airpods Pro from drops and breakage. There is a dedicate hole where you can insert your charger and charge on the go. And the LED display indicates the charging status. The AirPods Pro carrying case built-in keychain and keyring ensure your Airpods stay safe.
Key features
Metallic closure buckle
LED display
Charging port
Pairing physical button
This leather case is made explicitly for Airpods Pro. Made of handmade cow-high leather, it is high quality, stylish, and minimalist. It protects against external shock, scratches, and breakage.
Although coming in a luxury outlook, it does not overlook the protection factor. Like most cases, it comes with an LED display that indicates charging status. At the bottom is a cutout where you can plug your charger without removing the Airpods Pro.
Want to pair with another device? Well, there's the provision of a physical button that enables this. A metallic closure buckle allows you to attach the Airpods to your belt or backpack. It closes securely and opens completely without much hassle. As such, reaching your Airpods is a piece of cake, and so is installation.
Key features
Optional swivel clip
Compatibility
Easy to carry
Charger friendly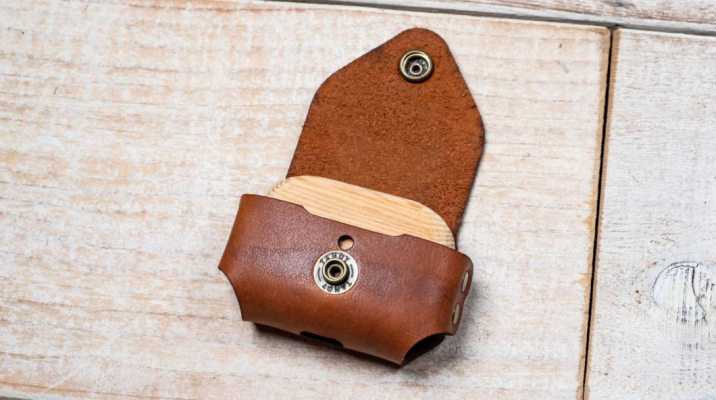 Simple yet stylish, this case is compatible with both Airpods Pro and regular Airpods. Designed from handmade leather from Portland, Oregon, it presents you with a high-quality case made with dedication and love. With it, you don't have to worry about tear and ware.
The case is compatible with wireless and regular charging. There is the provision of a charging port where you can plug in your charger with ease. It is highly customizable to meet your specific needs. The swivel clip ensures your Airpods Pro is safe regardless of where you are.
Key features
Easy to carry around
LED display
Charging port
Top-grade leather
This leather case is lightweight and comes with a keychain tie, which mitigates the chances of dropping it when walking or running. It offers all-round protection to your Airpods Pro charging case. With it, you can rest assured you'll not witness scratches and breakage. It will also protect your case from dust and dirt that can clog the charging port.
The leather enables you to open the case completely. As such, you can install and remove the charging case plus the Airpods with ease. The outer part of the case is made of high-grade leather that is smooth to your skin, while the inside is made of sturdy plastic that protects against external shock.
Direct charging is possible, thanks to the cutout at the bottom of the case. The LED display lets you know the charging process without much hassle. It is lightweight and easy to carry around.
Key features
LED display
Lightweight and portable
Unisex design
Key chain
Wireless and direct charging friendly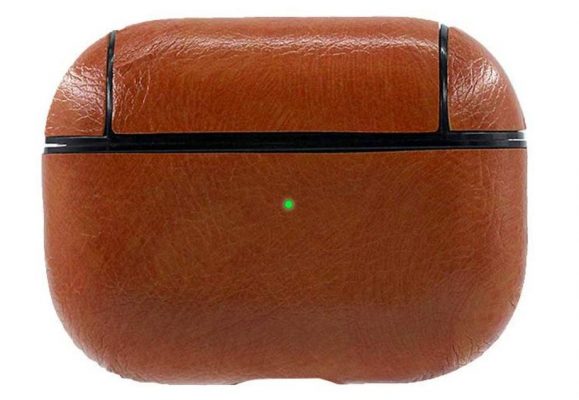 This type is made explicitly for Airpods Pro. It is made of top-grade leather that is resistant to scratches keep the luxury and authentic look. Besides, it protects the Airpods Pro and charging case from pollution and breakage.
Not only does it support direct charging, but also wireless charging, so you can listen to music as you charge. For direct charging, there is a charging port at the bottom. The lid closes wholly and securely, ensuring your Airpods are safe.
Besides, the interior of the case is made of anti-slip material, bolstering the grip. The keychain plus its design makes it a unisex product, a perfect gift for her or him. The keychain also ensures the case is securely held.
The leather is waterproof hence protecting your charging case against water splashes. There is an LED display that shows the charging process with ease.
Key features
Easy to carry
High-quality leather
Wireless and wired charging
It comes in genuine leather giving a stylish, trendy, tough look. The compact and lightweight design enables you to carry it around with ease. It offers optimal protection to your charging case and Airpods Pro.
The combination of silicone and high-quality PU leather offers a smooth feel while protecting against dust and lint collection. The keychain significantly reduces the chances of dropping it since you can hang it on your backpack or belt.
This case supports both wireless and wired charging giving you the freedom to listen to music on the go. The design enables you to open and close the case with ease. Besides, the charging case fits perfectly in it. As such, you don't need to remove it to charge.
It is a perfect gift for him, as it is specifically made for men.
Final say
Now, you have no excuse to protect your newly acquired Airpods Pro. Precious belongings deserve protection, and leather Airpods Pro cases provide this much-needed protection.
Besides, they are waterproof hence protecting against water splash. So, if you are an athlete, a person who loves listening to music as you walk or even an avid jogger, keep your Airpods safe with either of the above leather cases.